Sales Invoice Management System (SIMS)
SIMS is a cloud based application accessible from all modern web browsers which allows you to create sales invoices to send to your clients.
Our online system allows you to create clients invoices in very easy steps and allows you to save and store sales invoices as well as clients details.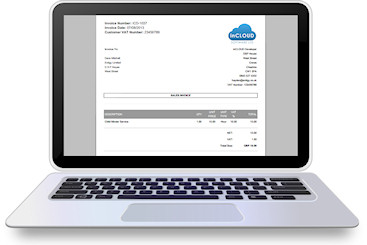 Here are some of the benefits of using our Sales Invoice Management System
Personalisation
Upload your logo once for it to appear on all invoices, along with your payment terms, bank details and general line item information.
Time Saving
Preset details at the time of original set-up so you can just select the option you require at the time of invoice.
No IT department needed
No software to install. All you need is a web browser on an internet-connected device.
VAT
Auto calculated (can be over-written).
Size
Our Sales Invoice Management System suits businesses of all sizes.
Controlled Cost
Purchase usage credits online to create invoices as and when you need them. No outlay - the cost is per creation.
Audit Trail
The system will keep an audit on the activity of the invoice and will allow for invoices to be reissued if necessary. The orginal invoice will still be available to view.
Accessible
See invoices anytime or anywhere as long as you can connect to the internet.
Convenient
Email the invoices with attachments or print out the invoices for posting to your clients or do both!